Kaunas University of Technology (KTU) encourages students to take an interest in artificial intelligence and presents online courses developed by the University of Helsinki and the IT company Reaktor. The international, free distance learning courses Elements of AI are wide-ranging and designed specifically for those who do not specialise in IT.
The duration of the course is 60 academic hours, upon successful completion of which a certificate signed by the University of Helsinki, the advanced IT company Reaktor and KTU is issued. Courses are presented in Lithuanian and English. More information about the initiative – in this video.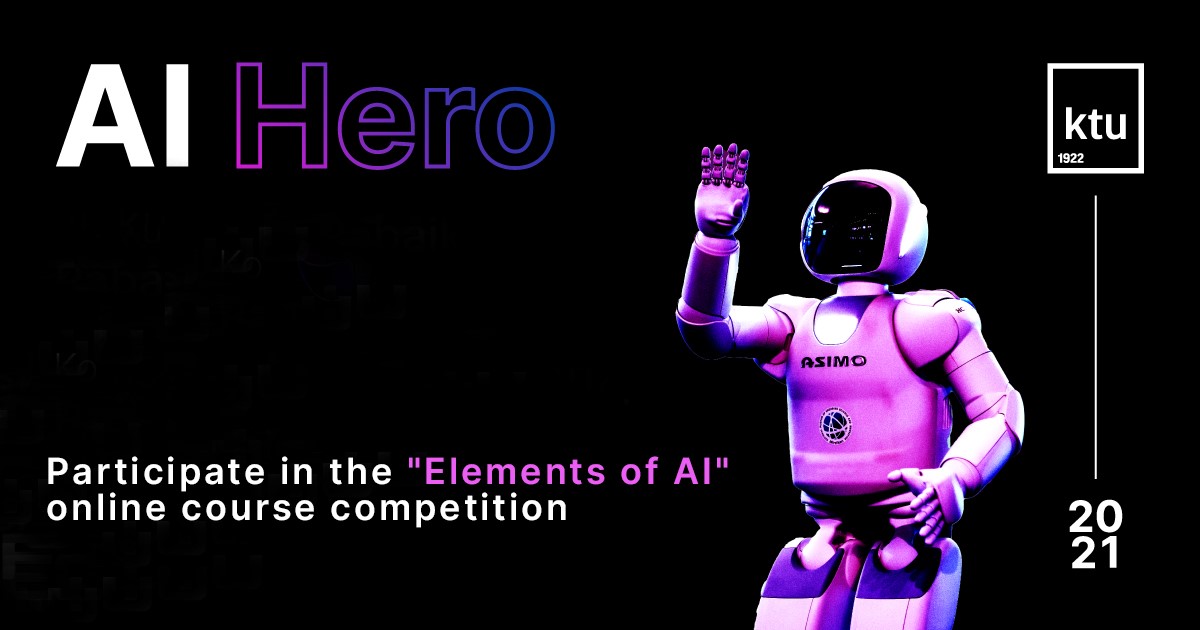 The process of the competition
Register for the free online course "Elements of AI" – https://www.elementsofai.com/
Take courses and send a certificate of graduation – https://forms.gle/6DixfkhPCh6kKm889
Win amazing prizes!
Participants: KTU students
Competition conditions
The main condition of the competition: completion of the distance learning course "Elements of AI", developed by the University of Helsinki and the Finnish company "AI Reaktor". The condition is considered fulfilled when the organizer is provided with a certificate reference by the participant.
Certificates are submitted here: https://forms.gle/6DixfkhPCh6kKm889
Prize fund
The student submission certificate is available after the establishment of prizes – virtual reality headset, speakers, umbrellas, backpacks with artificial intelligence stylistics, smart bracelets, books, etc. from KTU.
Opportunity to include the course in the Diploma
Students who successfully complete the course can apply for the recognition of acquired competencies according to the Description of the Procedure for Assessment of Non-formal and Informal Learning Achievements and Recognition of Competences (services are paid). In addition to the certificate, a 2-credit module "Introduction to Artificial Intelligence (P176B109)" will then be included in the Diploma Supplement.
Questions
We suggest you register in the Element of AI community, where you will find frequently asked questions and like-minded people: https://community.elementsofai.com/
If you have any questions, please contact Valentas Gružauskas, the organizer of the competition (mobile phone +370 685 76870, e-mail valentas.gruzauskas@ktu.lt).